Dear Agony
was the fourth studio album by the band Breaking Benjamin, released on September 29, 2009.  This is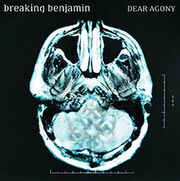 the last album to feature Aaron Fink, Mark Klepaski, and Chad Szeliga.  Aaron and Mark were fired and sued, and Chad left due to creative differences.  The album has a total of 11 main tracks on it, and 2 Japanese Bonus Tracks on it.  
Background and Release
Track List
Normal

Japanese Bonus Tracks

Without You ACOUSTIC VERSION
Give Me a Sign ACOUSTIC VERSION
Aftermath
After this album was released, Breaking Benjamin went on hiatus for a couple of reasons.  First, Benjamin Burnley was struggling with lung cancer and deep depression.  And the second, and biggest, reason, is because Aaron Fink and Mark Klepaski were fired and sued for allowing a cover of Blow Me Away to be made without consulting the rest of the band.  After the lawsuits were completely done, Benjamin Burnley then had to find three new members of the band, so they could make a comeback in 2015.  In addition, drummer Chad Szeliga left the band due to creative differences.  
Personel
Breaking Benjamin

Additional Musicians

Production
References